Today we will discuss about How to Install WordPress in InterServer Hosting. Founded in 1999, InterServer is a budget brand that focuses on catering to newer website owners. Not only does it come with a wealth of user-friendly tools, its plans are affordably priced, too.
This article is part of an in-depth series about InterServer, where I cover the ins and outs of this website hosting vendor. If you're just getting started with the company, this guide will take you step-by-step through the process of connecting a domain and installing WordPress.
Ready? Let's go!‌ GET STARTED WITH INTERSERVER NOW
How to Install WordPress in InterServer Hosting.
I'll let you in on a little secret. InterServer uses cPanel and Softaculous, so if you've had experience with this combination before, you'll have no problem with the process. If you haven't, you're in for a treat.
Log Into Your Admin
The first step is to log into your admin. If you're not sure about your login details, you can find them in your welcome email. Once you're inside the rather retro-looking admin panel, you can begin to set up WordPress installation.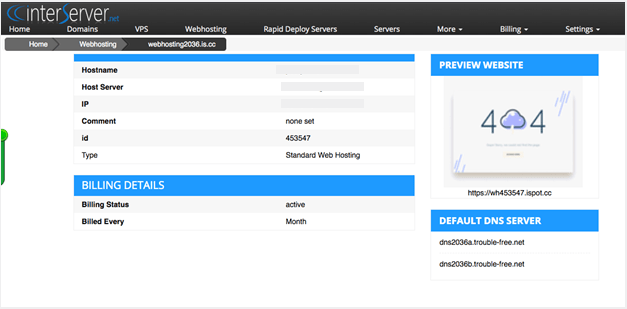 Enter the cPanel
Since InterServer includes cPanel access and Softaculous, the process is simple and easy to navigate. First, scroll down the bottom of the main page in the admin and select Login to cPanel.

Enter the One-Click Installer
Once you're inside the cPanel, scroll down to Software and select Softaculous Apps Installer. This is where all the programs included in the one-click installer can be configured.
Now, you will see a form with multiple sections. In the first section, choose the WordPress version you want to install on your domain name. You can select a specific version if it is your requirement, or you can install the latest available version which is selected by default. And select the domain name on which you want to install WordPress.
You can also set the directory. If you want to install WordPress on the domain name directly, make sure to remove "wp" in the directory field.
In the next three sections, Enter the required information according to your choice. Basically you have to fill up information like the Name and tagline of your WordPress site, Language, and the admin login information.
In the fourth section, select the plugins you want to install on your WordPress site while installation. However, you can also install and modify plugins after the installation.
In the "Advanced Options" section, you can define the Database name, Table prefix, and other things like Backup location and Backup plan. If your WordPress installation is important, we recommend you to enable automatic backups and select the appropriate backup location.
In the last section, you can select a theme for your WordPress site. But, you can do it after the installation too, You will find better themes in WordPress Themes repository that you can access directly from the admin panel of your WordPress site.
Finally, click on the Install button to begin the installation process. It might take several minutes to install WordPress (Really, only 1-2 minutes) because the installation process includes multiple complex steps.
Once the installation is complete, you will see a screen just like the following image. It contains the URL of the admin panel of your WordPress site as well as the URL of your WordPress site.
So, click on the Admin URL, log in using the username and password you have set, and start publishing the content or customizing your brand new WordPress site!
This is how you can install WordPress on cPanel using Softaculous. If you have any questions regarding this process, please let us know in the comment section given below, we will help you solve your questions as soon as possible.
this is how you can How to Install WordPress in InterServer Hosting.
get 99% Discount for first month click here